wine is about coming together
It's about family, friends, ideas, conversation and sharing. At Dobbes Family Estate, we are committed to giving back to our community as it's an integral part of who we are as individuals, and therefore, an integral part of our business. Since 2004, our charitable giving program has given our individual employees the opportunity to select a cause that has special meaning to them, to which we donate 10% of sales of a select wine during that quarter.
giving back to the community with our new charitable wine
This quarter, our Senior Cellar Technician, Mark Vijg, has chosen Oregon Food Bank as this quarter's charitable giving recipient. Refresh and give back with our 2016 Chardonnay – crafted with just a touch of new French oak, the lush mouthfeel is gracefully balanced with fresh acidity, allowing flavors of ripe pear, vanilla, and nutmeg to shine. 10% of its proceeds over the next 3 months will go to the Oregon Food Bank and their mission of eliminating hunger and its root causes… because no one should be hungry.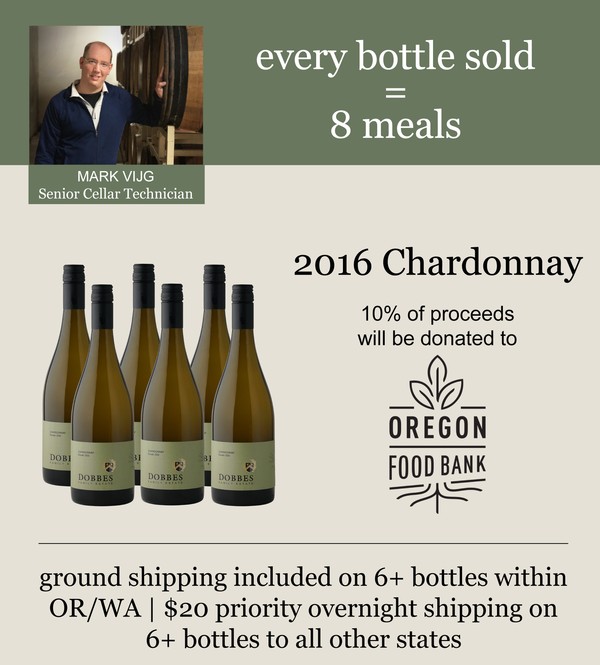 ---
why Mark chose Oregon Food Bank:
"There are many fine charitable organizations throughout the country as well as locally, but I would like to choose one of the most basic, yet essential organizations, the Oregon Food Bank. A shocking number of people, including children regularly go hungry every year in Oregon. Being able to eat, and eat a healthy sufficient diet, to me is one of our most basic expectations and rights being in a developed country. The Oregon Food Bank not only provides food to communities throughout the state but also provides education and a support system to help families become more self-sufficient."
---
Organizations we are proud to have supported: